Lab Members:
Haley O'Brien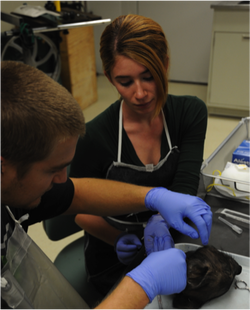 I am an assistant professor of neuroscience at Oklahoma State University's Center for Health Sciences. My research focuses on paleophysiology, or how unique thermoregulatory capabilities have influenced the evolution of large mammals across Cenozoic climate change. I use selective brain cooling in large mammals as a model system for generating inferences regarding the interface between an organism's physiology and its environment over geological time. My primary data collection involves radiopaque latex injection of ungulate cranial vasculature and examination of fossil skulls for osteological correlates of said vasculature. I divide my research time between museums and the field.
---
Kenneth Wheeler (2012-2013)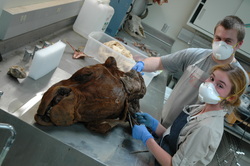 Kenneth Wheeler, former lab member extraordinaire, is graduate of Ohio University. Kenneth joined the lab as a
PACE
intern, and has assisted with specimen injection and 3D rendering of CT-scanned specimens. He presented his project, "A Digital, Dissectible Skull of the Domestic Pig,
Sus scrofa,
" at the Ohio University Research and Creativity Expo during the Spring of 2013, and was interviewed by Athens News! You can see his work here, and an interview with Ohio University journalism students
here
. In the photograph, he is assisting with an arterial injection of a dromedary camel, on loan from the AMNH.
---
Gizmo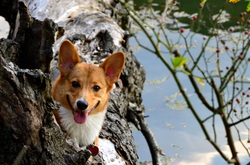 Gizmo is the lab's Pace-of-Life advisor- advocating for hard work with frequent bouts of play. His most recent contribution to the lab was an epic journey to collect specimens throughout Colorado, Wyoming, and Montana.
---
Joining the Lab
If you are interested in joining the O'Brien Lab at Oklahoma State University Center for Health Sciences, please first check out our graduate programs in
Biomedical Sciences
and
Anatomy and Vertebrate Paleontology
. If our program can accommodate your graduate school needs, send your C.V. and a short description of your research experience and interests to
haley.obrien@okstate.edu
. Note that the application deadlines are January 15th and May 31st, 2017, for Ph.D. and M.S. applicants, respectively.