About Me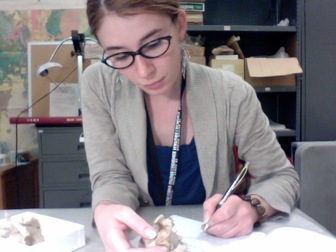 I am an assistant professor in the
Department of Anatomy and Cell Biology at Oklahoma State University's Center for Health Sciences
, where I teach neuroscience and biomedical foundations. My research program focuses on the macroevolutionary impact of thermoregulatory cranial vasculature in large-bodied mammals. See below for more about my research interests.
Prior to Fall, 2016, I taught clinically-oriented gross anatomy, neuroanatomy, and histology at
Ohio University Heritage College of Osteopathic Medicine
. In the past, I have taught biological anthropology and comparative vertebrate anatomy at my alma mater, the
College of Charleston
. Although my current research focuses on paleontology, my background is in marine biology. I have worked on projects as diverse as gastropod shell development, fish kinematics and schooling behavior, and marine algal systematics. As different as these topics seem, I am drawn to them by a fascination with how organisms interact with their environments.
---
---
~Research Interests~
Ungulate Arterial Morphology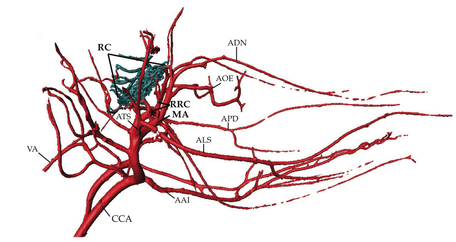 Artiodactyls (hoofed animals with 2 or 4 hoofs-- think deer, cows, pigs, antelope, hippos, etc.) have a unique means of supplying their brains with oxygenated blood. When it comes to supplying the head and neck with blood, most mammals have an internal carotid artery that carries blood bound for their brain (inside the brain case) and an external carotid artery that supplies much of the head and neck (outside of the brain case). The picture to the left is a digital model of the cranial arteries of a goat (Capra hircus). Instead of an internal carotid artery, artiodactyls have a structure that's known as the carotid rete. In the picture, the carotid rete is the large, tangled-looking green mass. This is radically different from other mammals, and its large surface area (across which heat can dissipate) enables artiodactyls to engage in selective brain cooling. In other words, artiodactyls are really great at keeping a cool head.


On a proximate scale, it's obvious that keeping your brain cool is important-- when your brain gets too hot, you suffer from potentially fatal heat stress. When the carotid rete dissipates heat into the veins that carry blood away from the head, it helps artiodactyls avoid or delay the negative consequences of heat stress. When we would start to sweat profusely, dehydrate, and become lethargic, artiodactyls would hardly notice the temperature increase. When we would have to find shade, water, or air conditioning, artiodactyls are able to continue about their normal activities. As climate change continues to make the average temperature of our globe rise and our fresh water sources dry up, the carotid rete may play a key role in the future of these large, graceful herbivores. Seems important, right?

From an evolutionary perspective, over tens of millions of years, this structure may be just as important. During the Eocene epoch (56-34 million years ago), climate can be described best as a world-wide tropical rainforest, with mild temperatures and abundant water. Throughout the Oligocene (34-23 million years ago) and Miocene (23-5.3 million years ago), climate becomes more temperate, with the tropics staying tropical, but much of the rest of the globe gradually becoming arid (and sometimes, but not always, much hotter). Over this time period, other hoofed ungulates, like horses and rhinos, were losing diversity while artiodactyls were flourishing. My dissertation seeks to answer the question: Could the carotid rete and the unique physiology of artiodactyls have helped them survive Cenozoic climate changes? And what do these incredibly long-term trends tell us about how artiodactyls might survive well into the future?
---

Evolution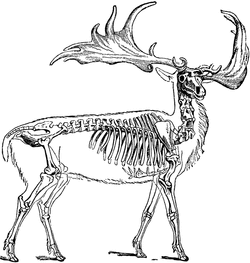 My research program allows me to use artiodactyls and their unique morphology as a model to investigate macroevolution-- large scale patterns that have helped generate modern diversity. I use a variety of techniques to examine how an organism's anatomy has influenced its response to climate change. These techniques include mathematical algorithms and ecological niche modeling to track character evolution and inferred range size throughout the history of a clade.
---
---
Paleontology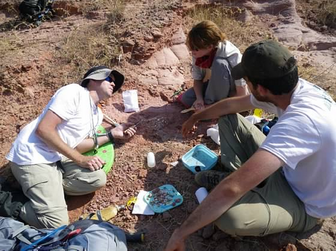 Like most paleontologists, I live for fieldwork. I've been fortunate enough to participate in digs in the Uinta Basin of Utah (2006, 2008, 2009), Doelling's Bowl, Utah (2010), The Rukwa Rift Basin of Tanzania (2011, 2012), and most recently, Lake Victoria, Kenya (2013). My fieldwork interests center around Cenozoic mammals, from between 55 million years to 120,000 years ago. In particular, I am interested in paleobiogeography-- the geographic locations at which mammalian groups originate or disperse through across their evolutionary past.
---
---
Interactive Anatomical Resources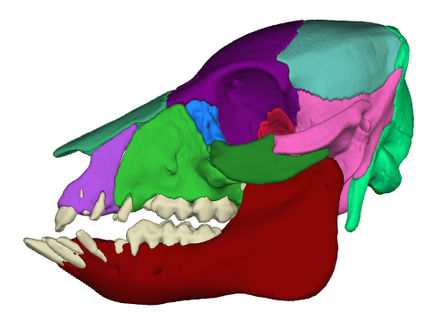 I gather a lot of CT-scan data for my dissertation research. As I make 3-D models of skulls and cranial arteries, I will be posting them
here
for public use.
---